This is one our favorite, fall soups that we eat from autumn through winter. It's healthy, creamy and thick with a hint of spice, and can be made vegetarian style. After you try this recipe, read our list of 21 Ways to Use Pumpkin Spice.
This Butternut Squash and Pumpkin recipe is full of antioxidants, vitamin A, fiber, and a number of immune boosting vitamins.
4 Servings
Ingredients
1 tablespoon olive oil
2 cloves garlic, minced
1 medium onion chopped
4 cups chicken broth (use vegetable for a vegan soup)
4 cups peeled and cubed butternut squash (about one medium squash)
4 cups peeled and cubed sugar pumpkin (about one small sugar pumpkin) or 15 ounces pumpkin puree
2 teaspoons Pumpkin Pie Spice
1 teaspoons Chili Powder
1 teaspoon ground pepper
sour cream (optional)
shelled pumpkin seeds for garnish (optional)
Directions
Add the olive oil in a large stockpot over medium heat and sauté the chopped onion and garlic cloves, stirring occasionally for 10 minutes, until soft and golden.
Add the chicken broth, butternut squash, and pumpkin to the pot and bring to a soft boil. Reduce the heat to a medium simmer. Stir in the Pumpkin Pie Spice, chili powder, and pepper. Cook, stirring occasionally for 20 minutes or until the squash softens and can be pierced with a fork.
Using a handheld immersion blender, blend the soup until smooth. Ladle into bowls, add a dab of sour cream, and garnish with pumpkin seeds.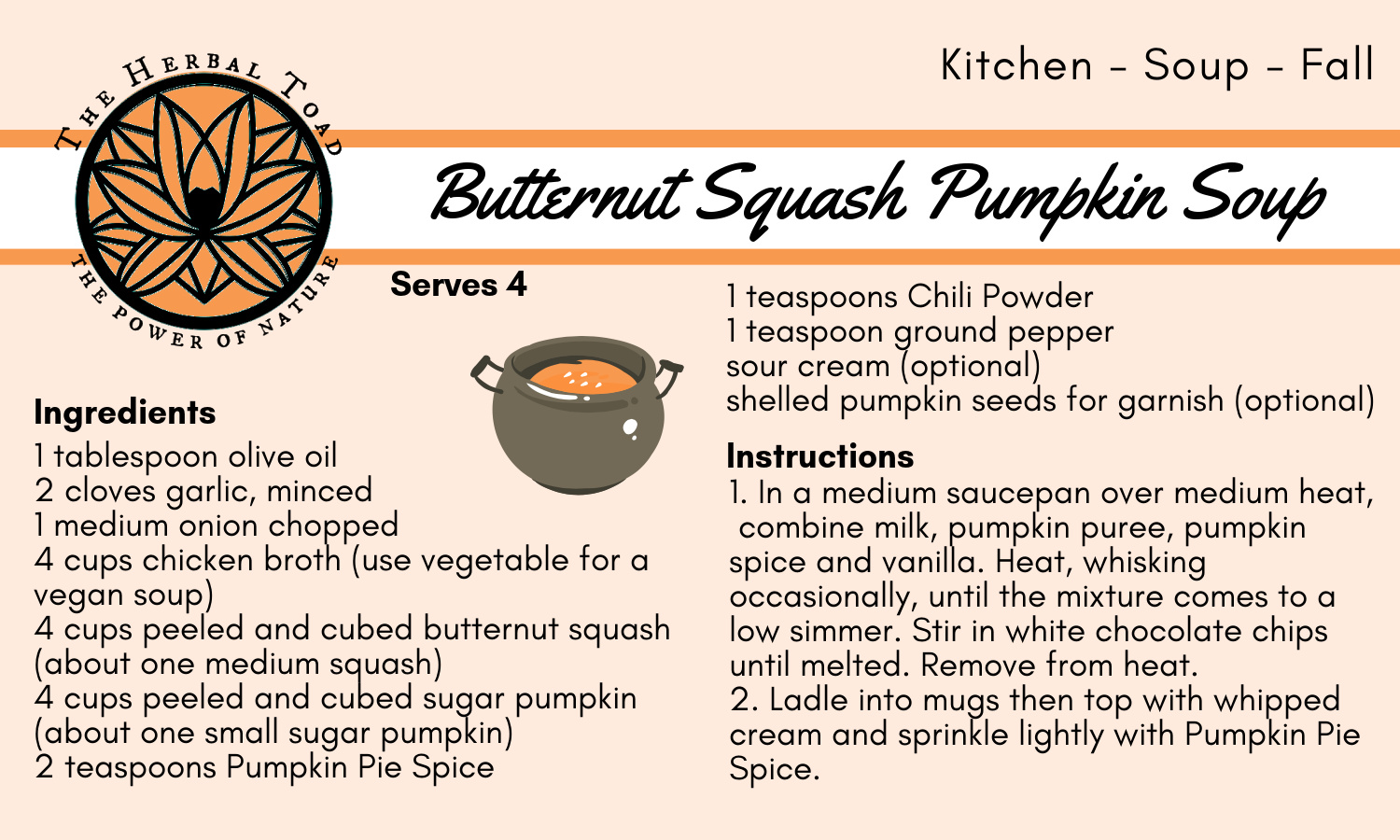 Recent Posts
We are getting you ready for the holidays with DIY gift giving with our DIY Gift Giving Series! …

This stuffing is one of our family favorites, and our number one requested recipe by those who have …

Cold weather can do a job on your skin, making it dry, itchy, dull, chaffed, and make wrinkles more …