Get Your Skin Cold Weather Ready
Cold weather can do a job on your skin, making it dry, itchy, dull, chaffed, and make wrinkles more noticable.
The Herbal Toad's new Herbal Steam Cleanse is a great way to rejuvenate and cleanse your skin, while adding nutrients, rather than stripping them away. Steaming helps soften the surface of the skin, and helps detox and dilate pores to make it easier to remove blackheads, left behind makeup, and dirt when daily cleansers cannot. This is because steaming softens the surface of your skin and opens pores for a deep clean. Facial steams are calming to the senses and are a natural way to give skin a rosy, dewy glow, but that's not the only use for our Herbal Steam! Herbal Steam is also great to use in the bath, for postpartum, as a toner, and even as a tea.
Rose Petals are full of antioxidants and work great as an astringent, but unlike store-bought astringents, they won't dry out your skin. Herbal Steam also has many natural anti-inflammatory agents, such as calendula flowers, chamomile flowers, and lavender buds. In addition to their healing properties, these flowers have a great natural smell that will leave your skin feeling refreshed and clean.
Herbal Steam is child-safe, pregnancy-safe, lactation-safe, and can even be steeped into tea! Because we use only natural, organic, food-grade ingredients, Herbal Steam is not only safe to ingest, but it is beneficial for you inside and out. And because it has so many uses, you don't need to worry about waste. Don't drink all the tea you made? You can strain out the herbs and use your remaining tea as a toner! Herbal Steam is a natural way to cleanse, relax, renew, and rejuvenate.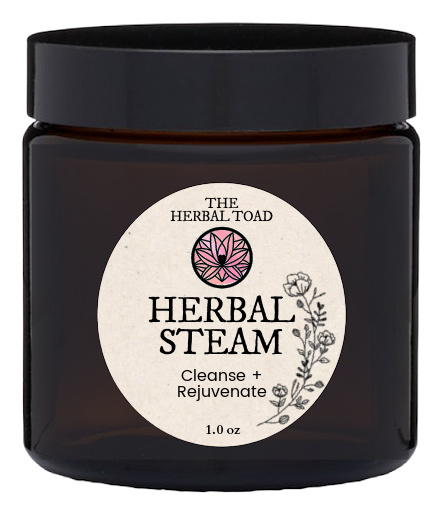 Other healthful skincare options:
Gua Sha Facial Mist - Can be used as a part of your skincare regimen or as needed throughout the day, even over makeup.
Anti-Age Essential Oil Blend - A great moisturizer that evens skin tone and reduces the appearance of wrinkles. Anti-Age can also be used as a makeup remover.
Clear Essential Oil Blend - A great option to keep skin moist while treating and preventing acne.
Clear Tincture - A lymph mover that helps improve the overall condition of skin.
Gua Sha Facial Tool - Reduces puffiness and the appearance of wrinkles, lifts, and increases circulation.
Our handmade natural, detergent free soaps are a great option for all skin types.