DIY Sea Salt Magnesium Spray
Thalassotherapy is the therapeutic use of salt water. It really a thing, and I am obsessed with this Himalayan sea salt spray! It is great for both hair and skin, and I find that it really can replace professional hair sea salt sprays.
The Benefits of Sea Salt Spray
For Hair: There is nothing like sea salt spray for easy summer hair. It creates natural sexy beach waves, while adding moisture, and providing light hold. This recipe is alcohol free, so it is just pure moisturizing goodness. This means that you get soft, healthy, natural looking beach waves, not crunchy, frizzy ones.
For Skin: Sea salt spray helps to deep clean pores, balance oil production, and eliminate bacteria that can cause breakouts and acne. The minerals in salt can also help nourish skin. Aside from its beauty benefits, this sea spray leaves skin feeling healthy and refreshed. It can serve as a facial toner or as an all-over skin nourishing spray.
This recipe is super easy, and you can customize it according to your personal health or beauty goals.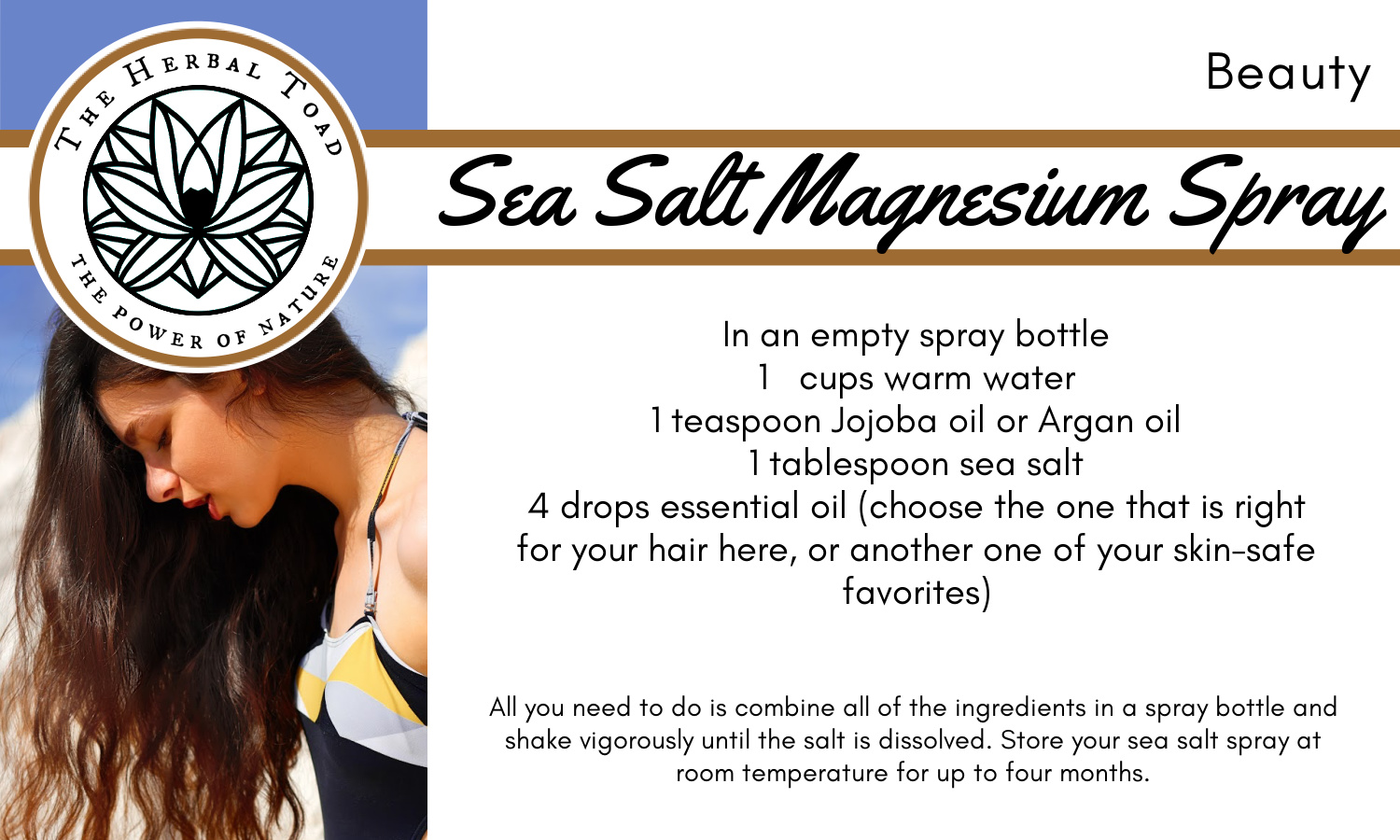 Ingredients:
an empty spray bottle
1 ½ cups warm water
1 teaspoon Jojoba oil or Argan oil
1 tablespoon sea salt
4 drops essential oil (choose the one that is right for your hair here, or another one of your skin-safe favorites)
Directions:
All you need to do is combine all of the ingredients in a spray bottle and shake vigorously until the salt is dissolved. Store your sea salt spray at room temperature for up to four months.
How to use it:
Because I have chosen to leave out the harsh ingredients that can help keep your recipe mixed, be sure to shake your sea salt spray before each use because the oil and water will separate.
For Hair: Spritz the sea salt spray onto damp hair and scrunch throughout the drying process, or add some spray to dry hair to add a little more texture. What we loved most about our DIY is that it didn't leave our hair greasy or overly gritty when we sprayed a generous amount!
For Skin: Sea salt spray can be sprayed on the body when still damp from the shower, or it can be applied as a part of your daily beauty routine by spritzing on the face, or by using a cotton ball to apply as a toner.
I hope that you enjoy this recipe as mush as I have.