Orange Essential Oil Benefits and Recipes
Orange Essential Oil, most commonly referred to as Sweet Orange Essential Oil, is derived from the fruits of the Citrus sinensis botanical, and should not be confused with Bitter Orange Essential Oil which is derived from the fruits of the Citrus aurantium botanical.
The high content of antioxidants and organic compounds in Orange Essential Oil makes it highly versatile. Orange essential oil has a variety of applications that can improve overall health, such as reducing muscle spasms, improving sleep, improved libido, improving digestion, strengthening immune system, detoxifying the body, and preventing cognitive disorders.
Printable Recipe Cards are Below!
Primary Benefits of Orange Essential Oil
Mental and Emotional Health
Orange essential oil has been shown to promote a happy, relaxed feeling and a proven mood lifter. The Advanced Biomedical Research journal published studies that show that orange essential oil helps to reduce pulse rate and salivary cortisol. The annual meeting of the American Physiological Society, the topic of discussion was about orange essential oil and it's ability to manage post-traumatic stress disorder.
According to a study published in Physiology & Behavior, and another study published in Progress in Neuro-Psychopharmacology & Biological Psychiatry, when orange essential oil is used aromatically, it may help relieve anxiety and aid in a more positive mood.
Prevents Infection
Cuts and abrasions are an invitation for infection. orange essential oil can help avoid infection when applied topically. A study by Dr. Steven Ricke at the University of Arkansas shows the antistaphylococcal properties and benefits of Orange Essential Oil.
Effective Tonic
There are many herbs and essential oils that act as a tonic and orange essential oil is among our favorite. A tonic tones every system in the body, keeping the metabolic system in working order while boosting the immune system.
Relieves Spasms
Used at early onset, orange essential oil can be effective in treating a number of spasms including muscle cramps, coughing, and diarrhea.
Improves Digestion
Orange essential oil can be an effective tool for a number of digestive issues, including slow digestion, constipation, colic, and gas.To use your diffuser to aid in digestion, add 1 drop per 100ml water in your diffuser after meals, or add a few drops to a carrier oil and massage into abdomen.
Reduces Inflammation
Readers of The Herbal Toad blog know that the THT team is hugely pro anti-inflammatory, and orange essential oil can significantly reduce the irritation and pain of inflammation whether applied topically, taken internally (as advised by your health practitioner), or used aromatically.
Promote Urination
By promoting urination, orange essential oil eliminates excess water and salt, pollutants, toxins including uric acid, and bile.
Aphrodisiac Properties
Orange essential oil has aphrodisiac properties, and used regularly can help improve frigidity, decreased libido, erectile dysfunction, impotence, and frigidity.
More Orange Essential Oil Benefits
Disinfectant
Odor Eliminator
Cognitive function
Stress reducer
Insecticide (particularly house flies)
Gas and indigestion
Constipation
Healthy skin
Dermatitis
Immune booster
Anti-inflammatory
Gingivitis, mouth ulcers, and bad breath
Allergy Relief
How to Use Orange Essential Oil
Aromatically: Using a diffuser, rubbing into the palms of your hand and cupping around your nose, or inhale the aroma directly from the bottle.
Topically: Orange essential oil can be blended with a carrier oil such as fractionated coconut oil, and applied topically. The dilution rate for the topical application of Orange essential oil is 5%. That means 10 drops to a 10 ml roll-on bottle.
Internally: Orange essential oil can be taken internally as a tonic, but only as directed by your healthcare practitioner. If using essential oils for internal use, be sure that they are 100% pure essential oils that are not compromised or adulterated in any way.
Aromatically Compatible Essential Oils
Sandalwood, Geranium, Frankincense, Bergamot, Clove, Coriander, Fir Needle, Geranium, Ginger, Bergamot, Jasmine, Lemon, May Chang, Neroli, Vanilla
Free Printable Recipe Cards
These DIY essential oil recipes are printable and are index card size to add to your herbal recipe box! Right click, save and print.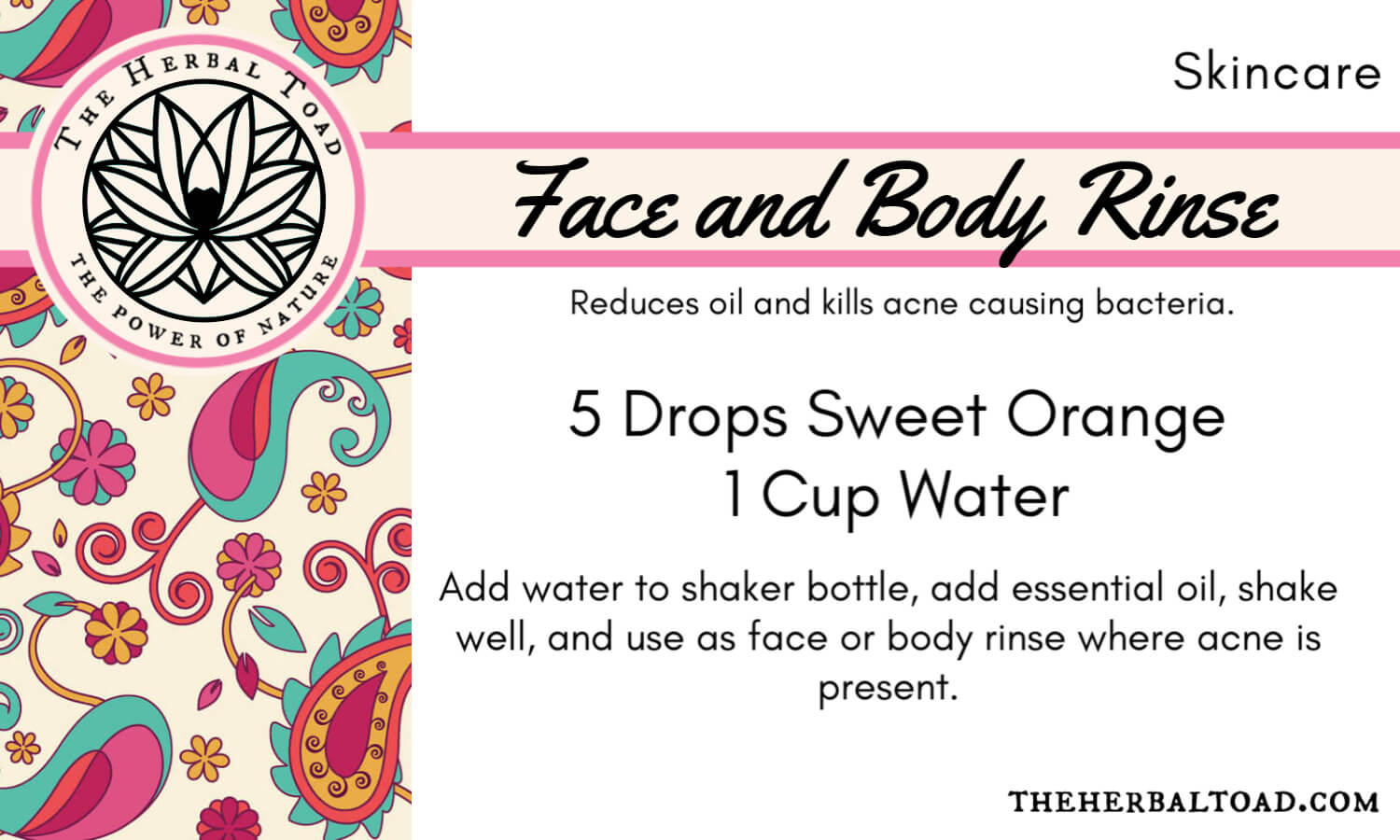 Face and Body Rinse Recipe for Acne: To reduce the oil on your skin and to kill acne causing bacteria, add 2 – 3 drops of orange essential oil to a cup of water and use that to rinse your face in the evenings.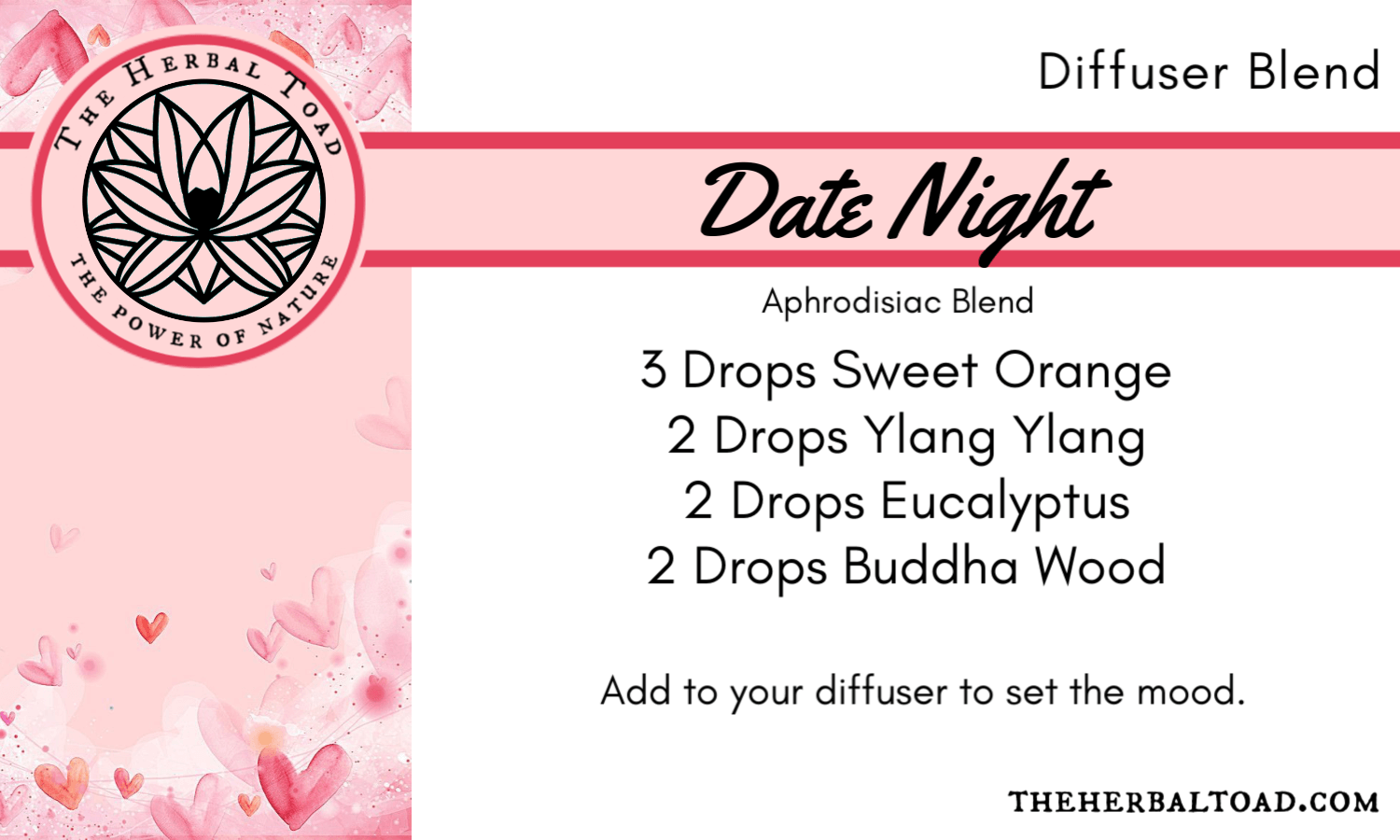 Date Night Diffuser Blend: 3 drops Sweet Orange, 2 drops Ylang Ylang, 2 drops Eucalyptus, and 2 drops Buddha Wood.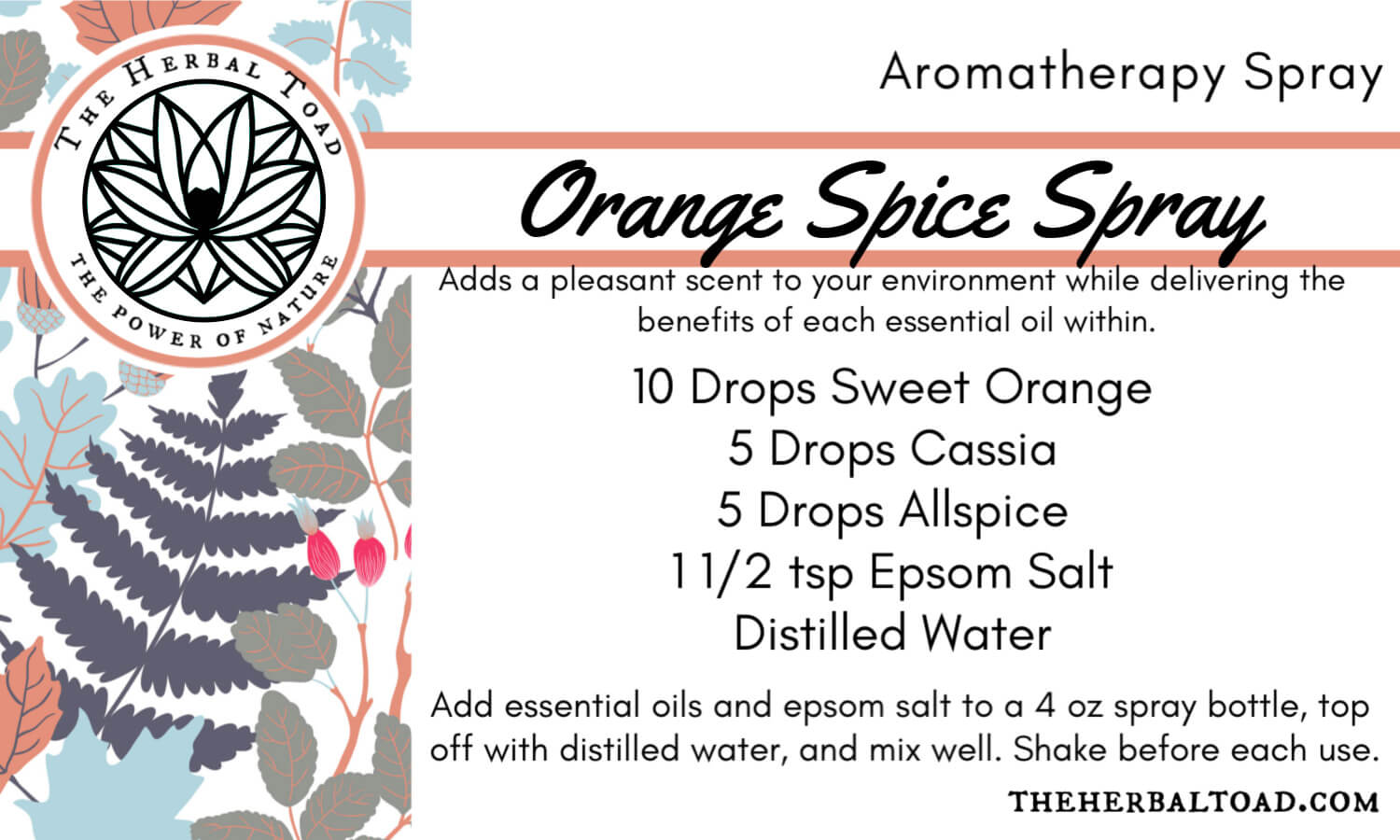 Orange Spice Aromatherapy Spray Recipe: 10 drops Orange, 5 drops Cassia, 5 drops Allspice, 1 1/2 tsp Epsom Salt, and distilled water. Add essential oils and epsom salt to a 4 oz spray bottle, top off with distilled water, and mix well. Shake before each use.
Stress Relief Diffuser Blend Recipe: 3 Parts Sweet Orange, 2 Parts Frankincense, 2 Parts Cedarwood. Add to diffuser and enjoy.
APOTHECARY PIE - AN HERBAL TOAD BLOG
If you are a regular here, you know how passionate I am about incorporating into your diet foods tha

Studies have shown that bentonite clay can treat poison ivy rash and speed up healing following a re

The one thing that I hear from clients is their reservation to try tinctures. I can't relate to bein