Chicken and Quinoa Dog Food Recipe
Who doesn't love a freshly cooked home cooked meal? I think that all of us do, and our pets are no exception. This easy DIY Chicken and Quinoa Dog Food Recipe is a favorite for both of our dogs, even our pickiest eater, Rosie.
Making homemade dog food has worked out so well for us that we have transitioned to feeding home cooked meals to our dogs at every meal and treat. We use only organic human food grade ingredients, and we still spend just over half of what we were paying for premium dog food. Add to that a nutritional supplement, and we are still spending less money on freshly made food over the premium dog food, and no more tummy trouble, ever!
When this recipe is prepared as written, it is a balance mix with all of the essential nutrients required for your dogs good health. If this is the first time preparing a DIY dog food, it is always a good idea to check with a professional to see if there is anything that your dog requires that may differ from most dogs.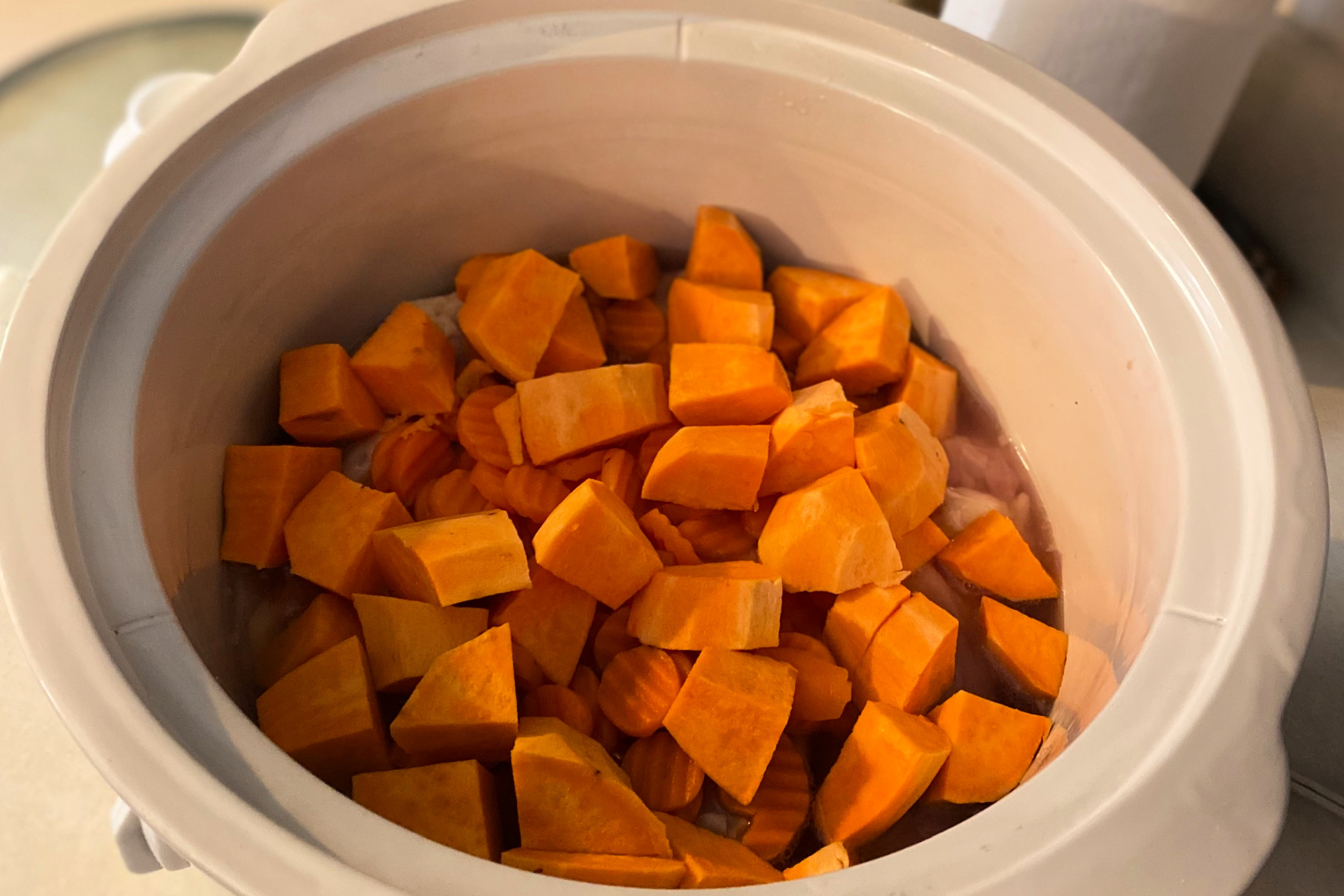 Ingredients
4 lbs Chicken thighs boneless and skinless
3 oz Chicken Livers
3 Cups Water or enough to mostly cover chicken
1½ Cups Sweet Potatoes Cubed
1 Cup Shredded Carrots
1 Large Summer Squash or Zucchini Squash
1½ Cups Quinoa Uncooked
1½ Cups Water Or enough water to cook quinoa
3 Tbsp Top Dog Food Completer or according to directions for your brand
Rosie's All Purpose Seasoning Optional
Instructions
Arrange chicken thighs in a single layer at bottom of slow cooker, and evenly distribute chicken livers over the thighs.
Add enough water to mostly cover the chicken.
Now add a layer of the sweet potatoes and carrots.
Cook on low for 5-6 hours, or until chicken is tender enough to shred, and sweet potatoes are soft.
Partially shred chicken with fork.
Cook quinoa until slightly under cooked.
Add quinoa and diced squash to slow cooker and mix with other ingredients. Continue cooking in the slow cooker until summer squash is tender.
Use potato masher to mash ingredients together. If you do not have a potato masher, use a large fork, or run a sharp knife through the mixture.
Cool and add 3 Tbsp of Top Dog Food Meal Completer, or the amount according to your brands directions.
Add to containers with servings enough to last 3-4 days each. (See serving suggestions in blog article.
Refrigerate for 3-4 days or freeze for 6 weeks.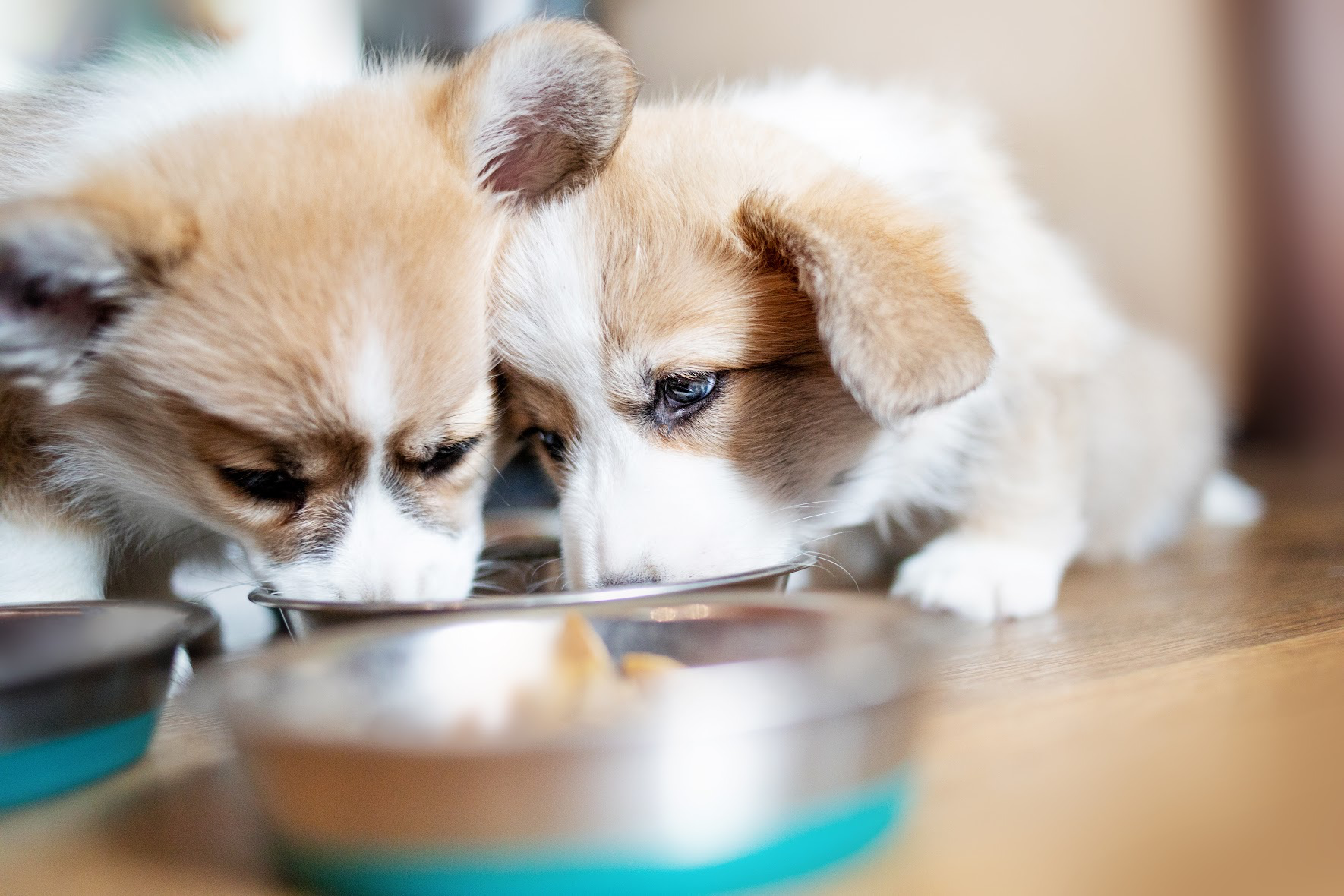 Notes
We sprinkle just a little pinch of Rosie's All-Purpose Dog Food Seasoning, from The Herbal Toad, on top of each serving at the time of feeding. It's optional, of course, but it is an economical way to add a number of healthful benefits to your dog's diet. Read more about the benefits of each of these herbs.
How Much Homemade Food To Feed Your Dog
| | |
| --- | --- |
| Dog weight in pounds | Cups of food per day |
| 5-20 | 1.5 to 2 |
| 20-50 | 2 to 3.75 |
| 50-70 | 3.75 to 4.75 |
| 70-100 | 4.75 to 6 |
This is a guideline. Check with your vet for the exact amount to feed your pet.
Let me know if you make this for your pups. I would love to hear if they like it as much as our Rosie and Harper do. Happy cooking. Here's to a healthy and well planned life!