Clary Sage Essential Oil Benefits and Recipes
Although clary sage essential oil has been long considered a leading "woman's oil", clary sage has benefits that go well beyond those for women.
We love clary sage for the anti-inflammatory properties, and clary sage has also been proven to produce feelings of lucidity, and tranquility, and is an excellent night time oil, among other things.
Printable Recipe Cards Are Below
Primary Benefits of Clary Sage Essential Oil
Relieves Hormonal Imbalance
Clary sage essential oil has earned its reputation as the go-to essential oil for women because of its ability to help with nearly any problem related to the female reproductive system, including both premenstrual syndrome and postmenopausal syndrome. Clary sage acts like the natural hormones produced by the body and help regulate existing hormonal imbalances. Clary Sage may protect women from polycystic ovary disease and even uterine and ovarian cancers triggered by the overproduction of estrogen. The antispasmodic and analgesic effect of clary sage oil reduces pain and cramping during periods. In a study conducted on school girls, massaging a few drops of clary sage oil diluted in a carrier oil on the abdomen once a day was found to provide significant relief.
Reduces High Blood Pressure
In clinical studies, clary sage essential oil was proven to reduce blood pressure while increasing blood circulation. A significant reduction was observed in both systolic and diastolic readings compared to control group. This essential oil lowers blood pressure by relaxing and opening up the blood vessels. This cuts down the load on the heart because blood can be pumped less forcefully when the arteries are relaxed. Diffusing the essential oil is sufficient to bring about the blood pressure-lowering effect, so, for people with hypertension, this benefit comes without any drugs.
Improves Digestion and Bowel Regularity
Clary sage essential oil has been shown to help improve digestion and elimination of waste. Bowel regularity can prevent certain cancers (particularly colorectal cancers), and reduce the risk of other diseases where its origin begins in the stomach.
Reduces Stress and Anxiety
Clary sage oil is useful in reducing anxiety and insomnia because of its calming, sedating effect on the nervous system. It also has a balancing effect on hormones, and can help regulate the stress hormone cortisol.
More Clary Sage Uses
Reduces Pain and Inflammation
Oral Yeast Infection / Thrush
Bacteria and Fungal Infection
Hair Growth
Dandruff Control (mix 5-6 drops with a carrier oil and massage into scalp before shampooing)
Dermatitis Relief
Reduces Acne
Relieves Depression
Acts as a Natural Deodorant
Gum Health
Relieves Asthma
Helps with Respiratory Infection
How to Use Clary Sage Essential Oil
Aromatically: Using a diffuser, rubbing into the palms of your hand and cupping around your nose, or inhale the aroma directly from the bottle.
Topically: Clary sage essential oil can be blended with a carrier oil such as fractionated coconut oil, and applied topically. The dilution rate for the topical application of clary sage essential oil is 5%. That means 10 drops to a 10 ml roll-on bottle.
Internally: Clary Sage essential oil can be diluted and used in a mouth rinse or taken internally as a tonic, but only as directed by your healthcare practitioner. If using essential oils for internal use, be sure that they are 100% pure essential oils that are not compromised or adulterated in any way.
Aromatically Compatible Essential Oils
Bergamot, Lemon, Grapefruit, Orange, Cedarwood, Cypress, Juniper, Lavender, Geranium, Sandalwood
Clary Sage Precautions
Clary sage should not be used before full term during pregnancy.
---
Free Clary Sage Essential Oil Printable Recipe Cards
These DIY essential oil recipes are printable and are index card size to add to your herbal recipe box!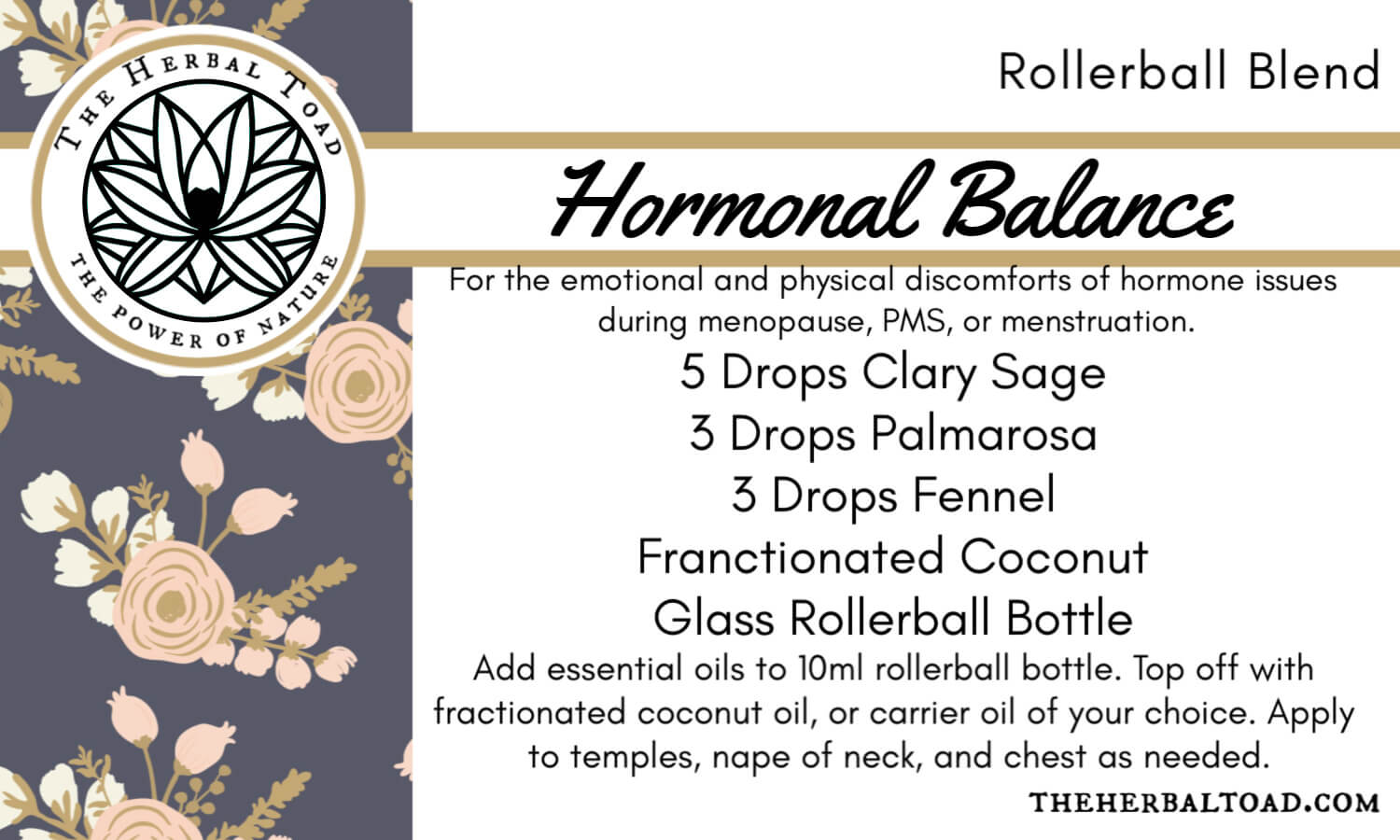 DIY Hormonal Balance Rollerball Recipe: 5 Drops Clary Sage, 3 Drops Palmarosa, 3 Drops Fennel, Fractionated Coconut Oil, 10 ml Glass Rollerball Bottle. Add essential oils to 10 ml rollerball bottle and top off with fractionated coconut oil.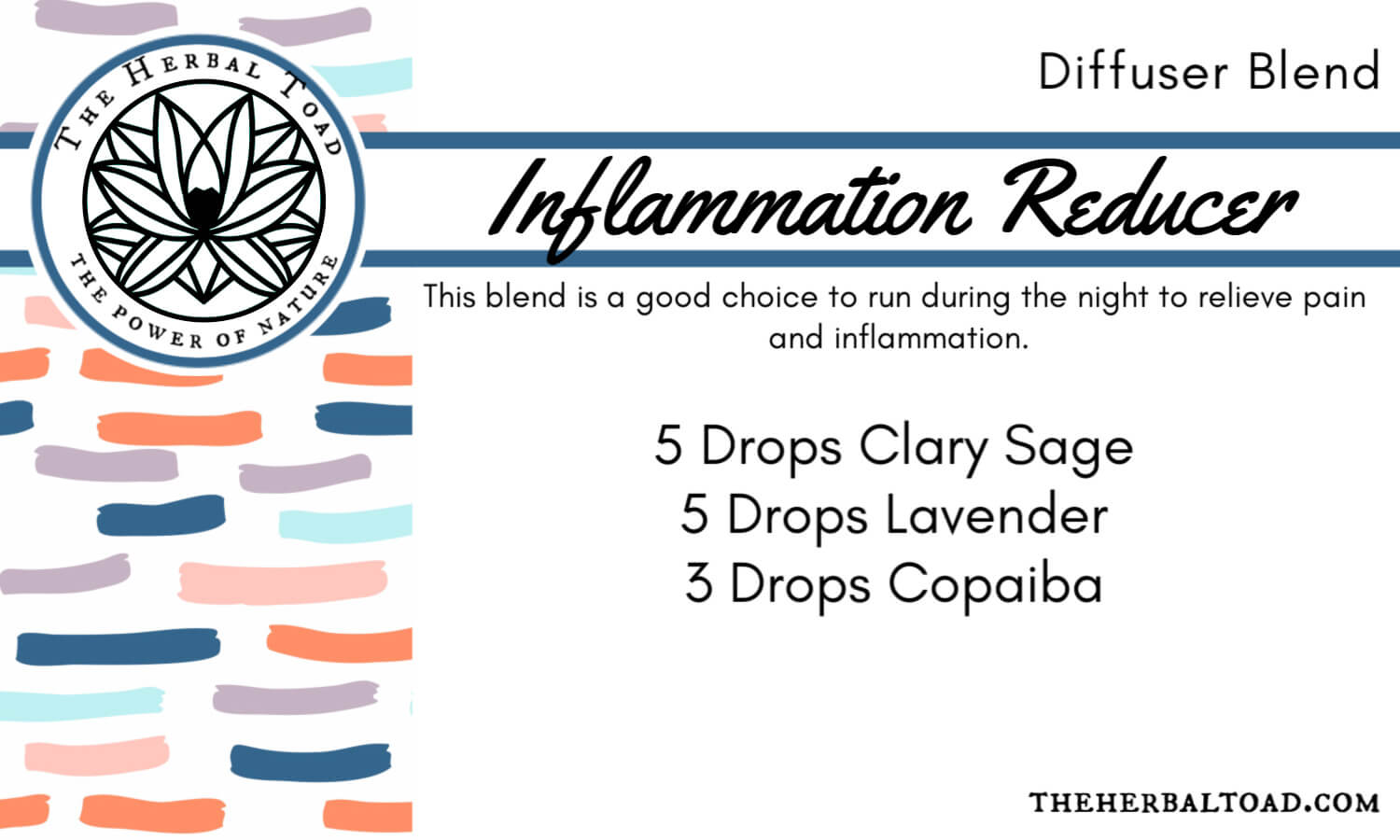 DIY Inflammation Reducer Diffuser Recipe: 5 Drops Clary Sage, 5 Drops Lavender, 3 Drops Copaiba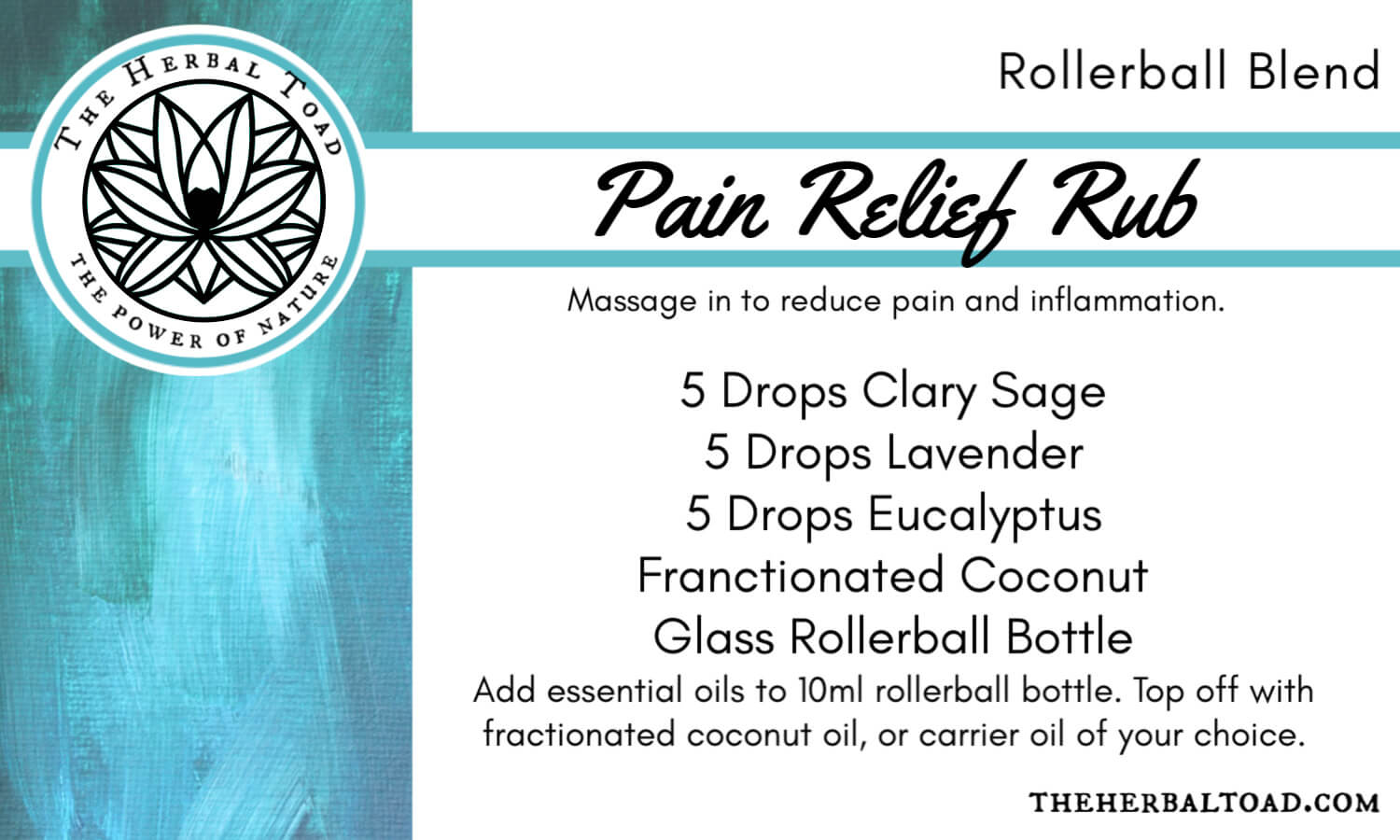 DIY Pain Relief Rub: 5 Drops Clary Sage, 5 Drops Lavender, 5 Drops Eucalyptus, Fractionated Coconut Oil, Glass Rollerball Bottle. Add essential oils to 10 ml rollerball bottle and top off with fractionated coconut oil.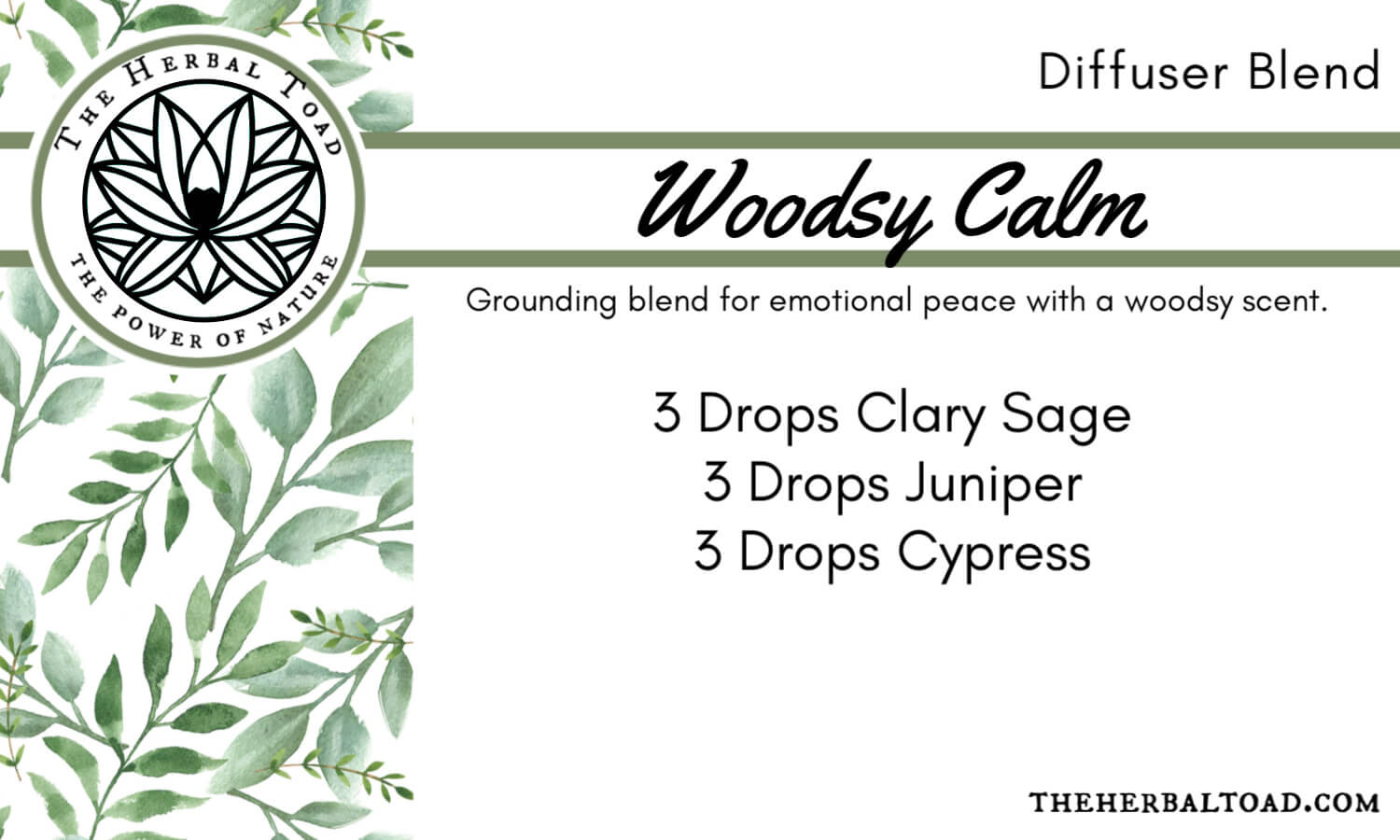 DIY Woodsy Calm Down Diffuser Blend: 3 Drops Clary Sage, 3 Drops Juniper Berry, 3 Drops Cypress