Herbal Pumpkin Latte Recipe
This time of year I want pumpkin spice everything. One of my favorites is a herbal, good for you, anti inflammatory, Herbal Pumpkin Spice Latte Recipe. This deliciousness is not easy to find, especially in our small area, so I scoured the internet for a couple of recipe that might deliver the same great taste at home, and made some changes to make it herbal. After a few misses, and some experimenting. The best part about this Herbal Pumpkin Spice Latte Recipe is that it's the topping with all the pumpkin spice flavor, so it can be poured over a variety of hot beverages. So, make it a healthy caffeine-free herbal blend, or get make it with Yerba Mate for the caffeine punch.
Looking for more ways to incorporate pumpkin spice flavor into your fall time plans? Read my post on21 Ways to Use Pumpkin Pie Spice(Besides Pumpkin Pie).
Printable Recipe at the Bottom
Serves 2
2 c. whole milk (whole milk froths up better than half and half)
4 tbsp. pumpkin purée
2 tbsp. maple syrup or honey
1 tsp. pumpkin pie spice, plus a bit more for garnish
1 1/2 tsp. pure vanilla extract
1/2 c. Honey Bush Tea, Rooibos Tea, or a qualityRoasted Yerba Mate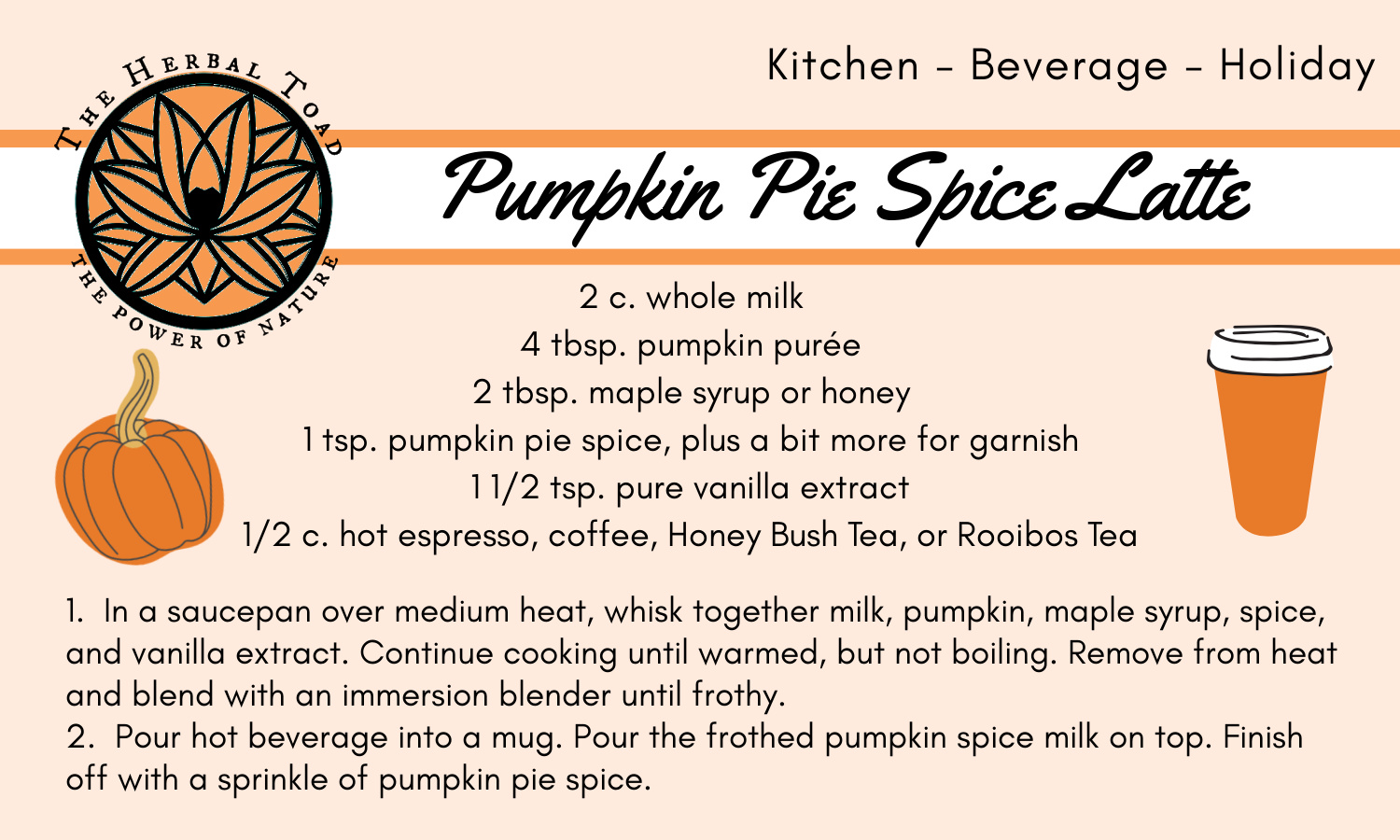 In a saucepan over medium heat, whisk together milk, pumpkin, maple syrup, spice, and vanilla extract. Continue cooking until warmed, but not boiling. Remove from heat and blend with an immersion blender until frothy.
Pour hot beverage into a mug. Pour the frothed pumpkin-spice milk on top. Finish off with a sprinkle of pumpkin pie spice.
Enjoy!