My Favorite Things To Do With Lemon Essential Oil
Lemon Essential Oil has many, many properties that help promote health, mental and physical energy levels, purification. It is most often used with acne, high blood pressure, allergies, respiratory issues, and cleaning. Its invigorating and warming aroma freshens, sanitizes, and invigorates. There are endless uses for Lemon Essential Oil. Today I present to you my favorite common uses.
Add 2 drops to every 100mL water in an aromatherapy diffuser for the above causes.
Add a few drops to a bowl of hot, steamy water, and breathe in the aroma when suffering from chest congestion.
Mix with a carrier and apply to stubborn acne. (Do not use topically before exposure to sun)
Add 50 drops to a spray bottle with 30 ounces of distilled water. Use to clean and sanitize bathroom and kitchen surfaces. Shake the bottle often.
Add 1 or 2 drops of lemon essential oil to wool dryer balls or a washcloth to lightly scent your clothes in the dryer.
Add a couple of drops to a batch of sugar cookie dough for lemony flavor.
Add a drop to your toothbrush when brushing for fresh breath.
Add 4 to 5 drops of lemon oil to your dishwater or to the bottom of your dishwasher to help degrease and clean dishes.
Deodorize and clean your microwave by adding 6 drops of lemon essential oil to a cup of water in a microwave safe dish and heat the water in the microwave for two to three minutes.
Add to your mop water for cleaner floors.
Add a few drops to a steam mop for extra cleaning/ sanitizing power, and for a fresh scent.
For DIY fabric softener, add 8 drops of lemon essential oil to 1 cup of white vinegar and use as a liquid fabric softener during your rinse cycle. Do not add essential oils directly to your fabrics.
Mix with baking soda to clean bathtubs or sinks.
Apply to hands to remove hard to remove substances, such as tree sap.
Add a few drops to the inside of your vacuum bag or container to freshen rooms.
Add 15 drops to 16 oz of purified water and use as an air spray to freshen the air.
Place a few drops of lemon essential oil on a cotton ball and place it in the refrigerator or garbage can to eliminate odors.
To clean and increase the shelf life of fresh fruits and vegetables, fill a bowl with cool water and add 4-5 drops of lemon essential oil. Fully submerge the entire fruit or vegetable. Place a few drops in the shower for a morning wakeup.
Make natural furniture polish by adding 3 drops of lemon essential oil to 1/4 cup of olive oil and apply with a rag to clean and shine wood finishes. Always test a small non visible spot since a particular finish may not be suitable for this technique.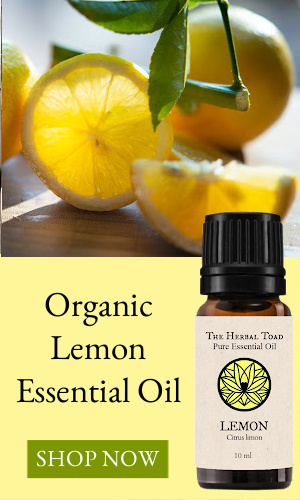 APOTHECARY PIE - AN HERBAL TOAD BLOG
My Valentines Herbal Latte Recipe is light and delicious, Whether you drink it hot for a cozy night

Introducing your child to herbal tea early can help them form positive wellness habits. Drinking her

I have a hard time slowing down. Always have. With a bad habit of promising myself the best of life