Recipe: Herb Roasted Turkey
This is one of my favorite turkey recipes to serve with my Herb Stuffing. We eat this every Thanksgiving holiday.
15 lb turkey
10 tablespoons butter softened
2 teaspoons minced garlic
3 Tbs Poultry Seasoning
salt and pepper to taste
1 onion peeled and quartered
1 lemon quartered
3 C warmed chicken or turkey broth
Preheat oven to 450 degrees while letting turkey stand at room temperature for 30 minutes.
Blend together butter, poultry seasoning, salt, and pepper until smooth.
Season the cavity of turkey with salt and pepper, and stuff with the onion and lemon. Tie the legs together with kitchen twine.
Rub the herb butter over the outside of the turkey and under the skin of the breast.
Bake for 45 minutes. Reduce temperature to 350 degrees and roast, basting the turkey every 30 minutes with chicken broth, until the turkey is done. About 3 hours. (165 degrees F at thickest part of turkey thigh)
Remove the turkey from the oven and tent loosely with foil. Let the turkey rest for 25 minutes. Slice, then serve.
NOTE: The herb butter recipe can easily be used when roasting just a turkey breast or legs.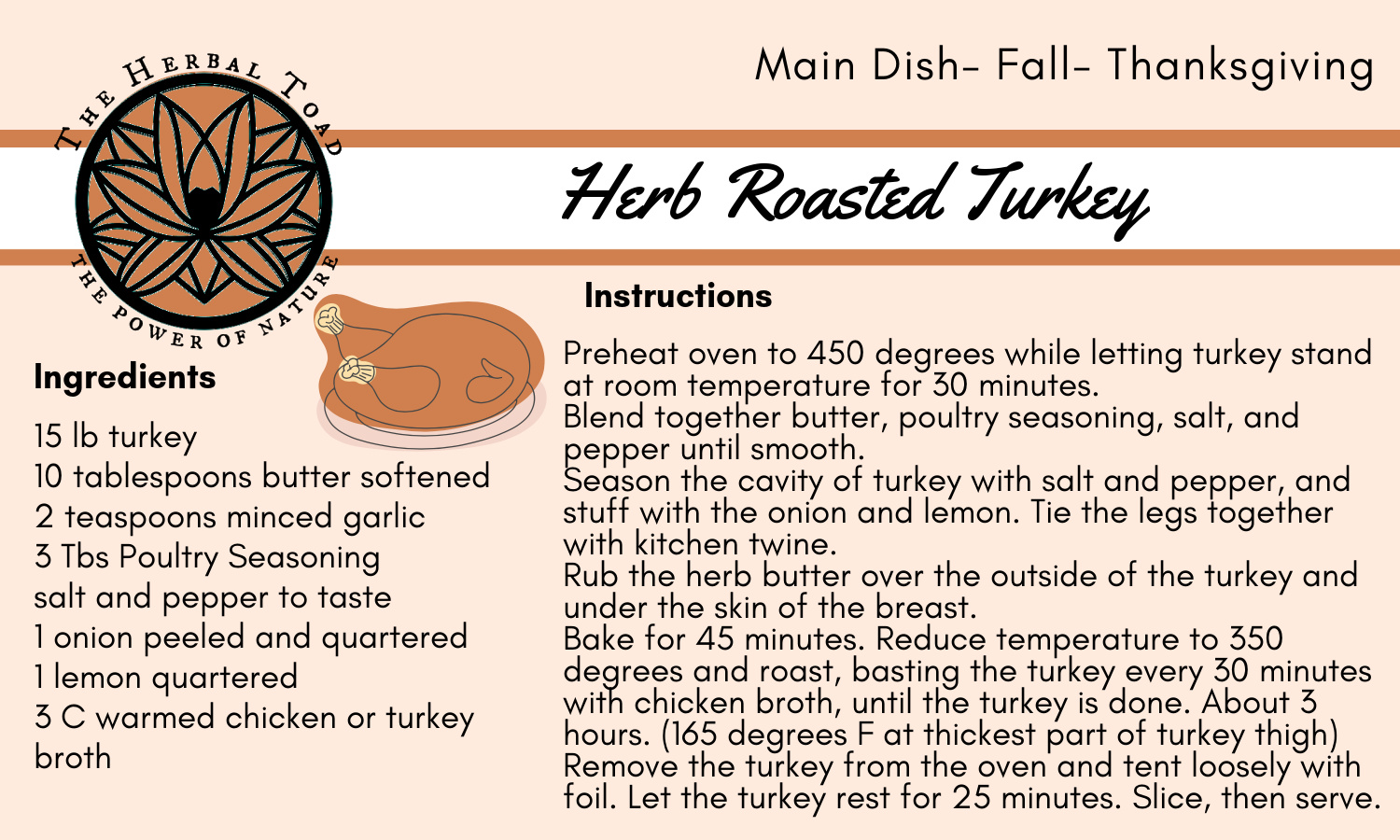 Get the Printable Recipe Cards
Praying peace, love, and comfort through your holiday season.
APOTHECARY PIE - AN HERBAL TOAD BLOG
My Valentines Herbal Latte Recipe is light and delicious, Whether you drink it hot for a cozy night

Introducing your child to herbal tea early can help them form positive wellness habits. Drinking her

I have a hard time slowing down. Always have. With a bad habit of promising myself the best of life