Back To School Essential Oil Printable Recipes
Summer is coming to a close, and we are in full back to school mode. My back to school essential oil recipes are designed to put your student in the state of mind for learning while helping to support immunity and common ailments now that school is back in session!
Scroll to the Bottom for Printable Recipe Cards!
Pre-Game Sleep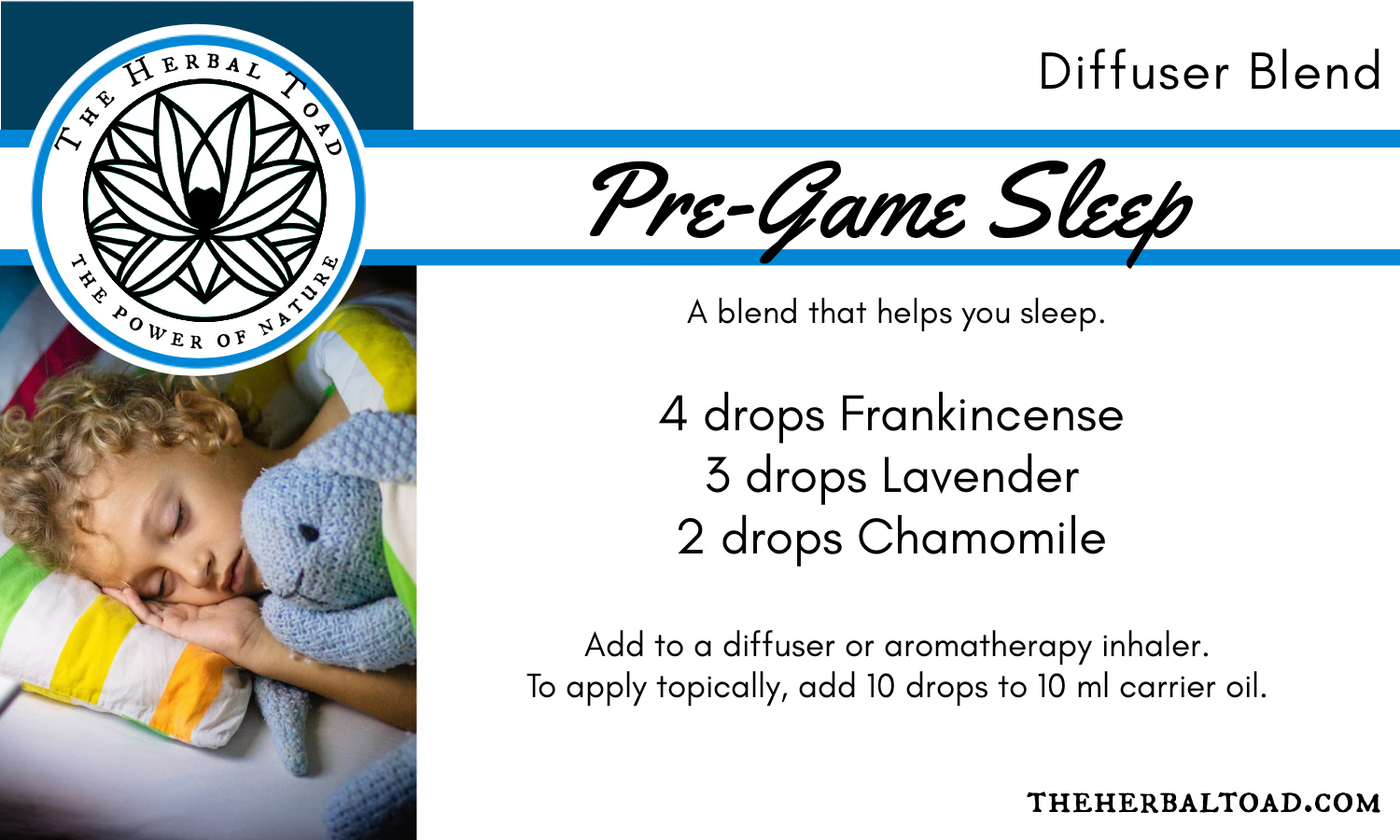 4 drops Frankincense + 3 drops Lavender + 2 drops Chamomile
Looking for a ready to use sleep essential oil blend? We use The Herbal Toad's Sleep Essential Oil Roll-On, massaged to settle our children down before bed, and then Sleep Essential Oil Blend diffused through the night for a good nights rest. There is nothing like a good nights sleep to prepare for the best day possible.
Wake Up Call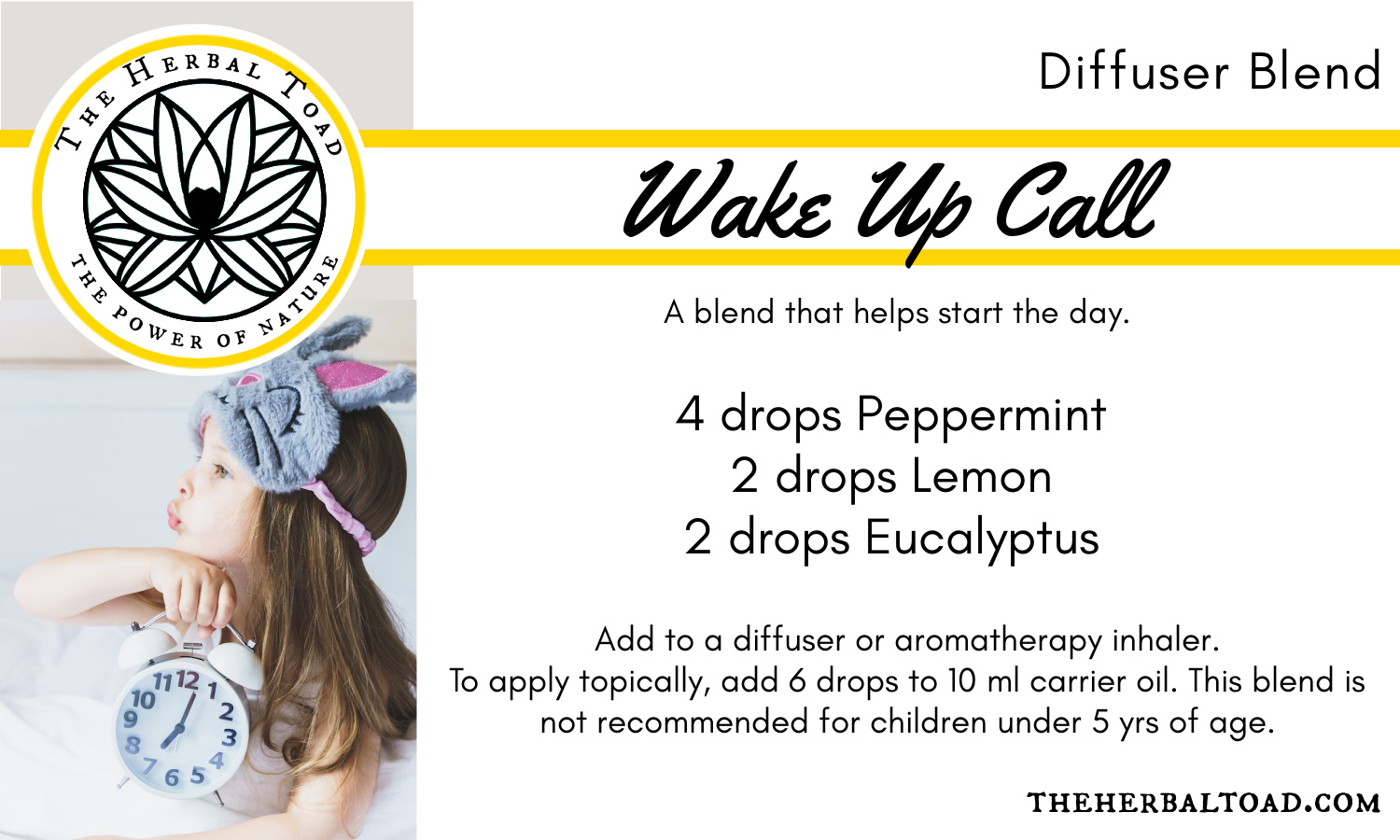 4 drops Peppermint + 2 drops Lemon + 2 drops Eucalyptus
Our favorite ready to use blend for waking up in the morning is Energy Essential Oil Blend: Energy essential oil is specifically formulated to invigorate both emotionally and physically. It can help to clear the mind and deliver the feeling of increased energy.
Perfect Attendance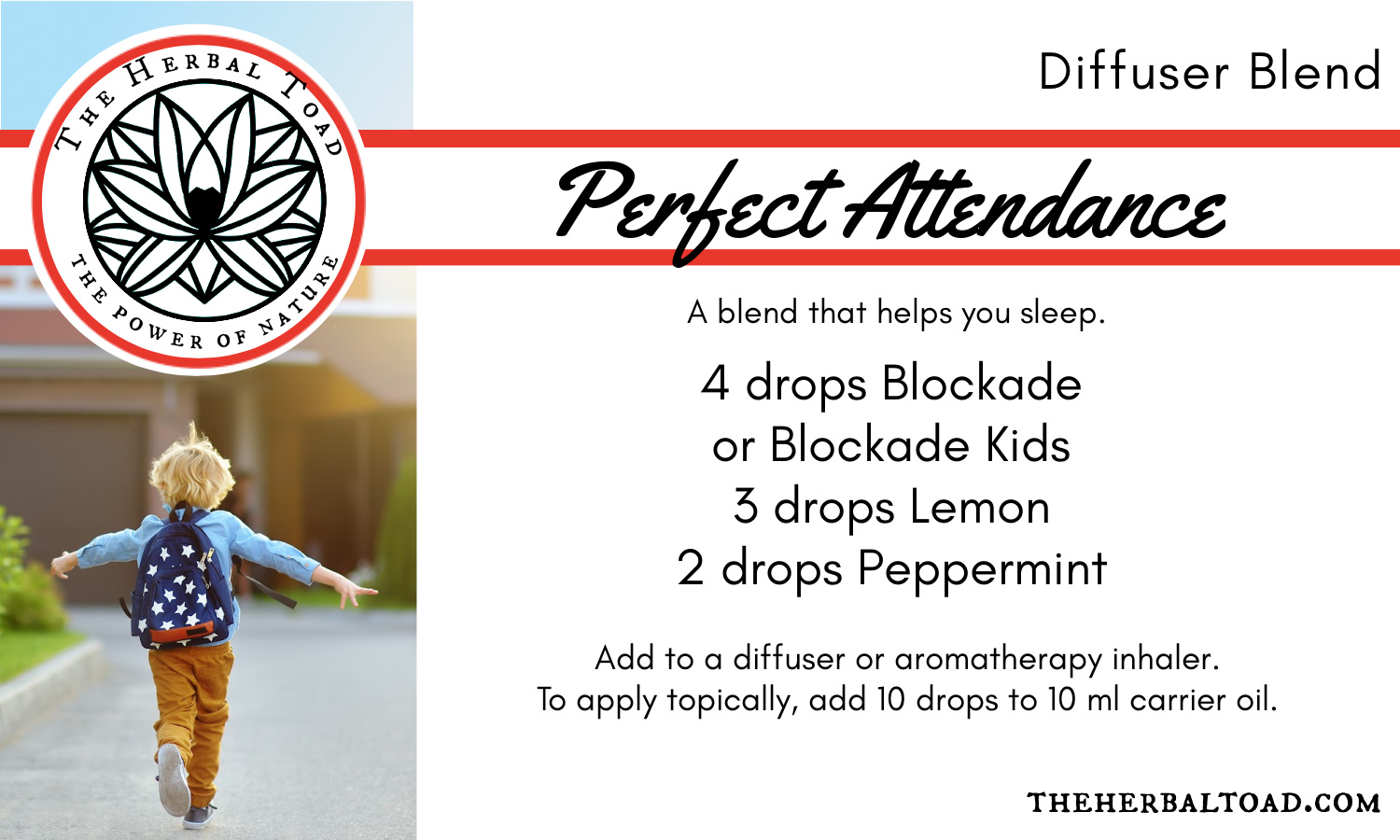 4 drops Blockade + 3 drops Lemon + 2 drops Peppermint
Ready to use options for school time immunity are Immune Essential Oil Blend, Immune Kids Essential Oil Blend. Also, our family relies on Elderberry Tincture to keep the entire family healthy through threats of cold, flue, virus, and other seasonal threats.
Nervous Belly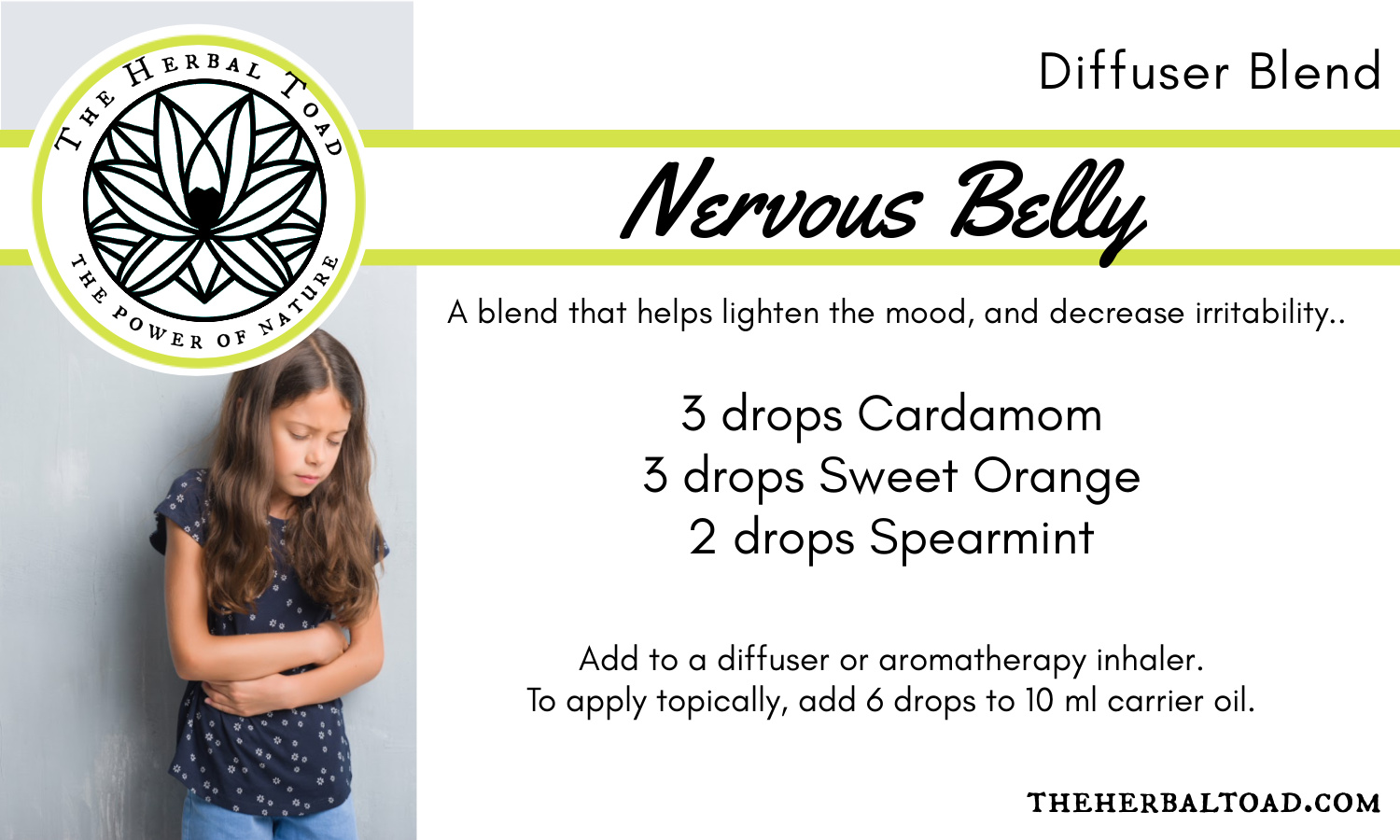 3 drops Cardamom + 3 drops Orange + 2 drops Spearmint
Whether it's first day jitters, bus ride nausea, or test anxiety that makes your student queazy, essential oils can help! For a ready to use option, our family uses Tummy Soothe Essential Oil Blend for any digestive issues. Tummy Soothe Essential Oil is available in a roll-on for tummy massage, and as an inhaler to quell nausea on the go.
Homework Helper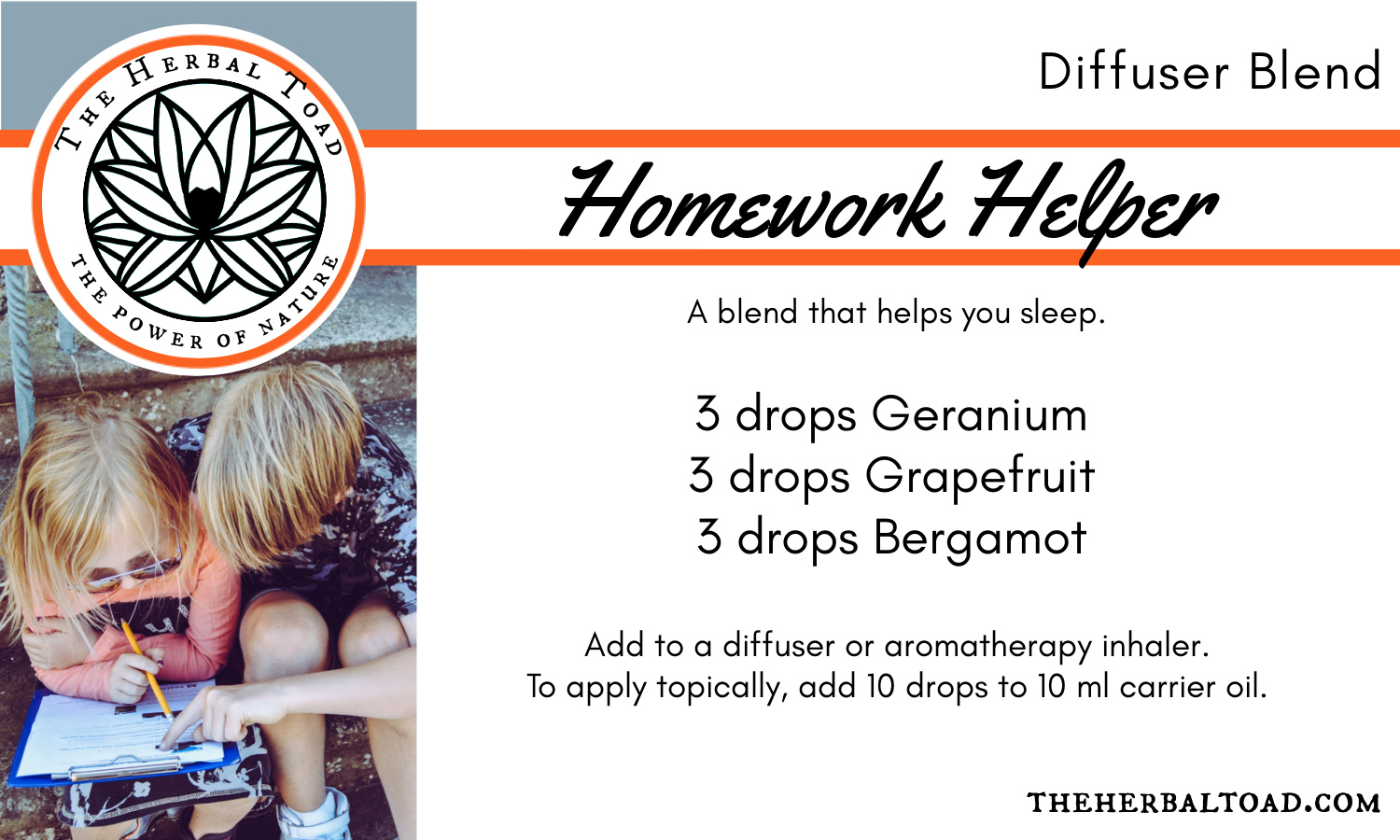 3 drops Geranium + 3 drops Grapefruit + 3 drops Bergamot
New this year is Study Essential Oil Blend, for anytime a calm focus is needed. Study is great for school, work, and home. We diffuse it in our homeschool classroom. Study Essential Oil Blend is also available as a roll-on, and as an on the go inhaler.
Sports Relief
4 Drops Copaiba + 3 Drops Balsam Fir + 2 Drops Frankincense
For an expertly blended essential oil, we absolutely love Relief Kids Essential Oil Blend. It is perfect for a variety of aches and pains from growing pains, and serious aches and pains from body strain. Use Relief Kids Roll-On for a ready to use massage oil.
Print The Recipes!
You can print these recipes in 2 ways.
Option 1: Print all the essential oil recipes on two sheets of card stock and add them to your recipe binder, or cut them out for your recipe box.
Option 2: Right click on the recipes and save. Open. Print. Cut out and add to your recipe box.
APOTHECARY PIE - AN HERBAL TOAD BLOG
My Valentines Herbal Latte Recipe is light and delicious, Whether you drink it hot for a cozy night

Introducing your child to herbal tea early can help them form positive wellness habits. Drinking her

I have a hard time slowing down. Always have. With a bad habit of promising myself the best of life